750W Brushless Motor
With a peak output of 980W, Fafrees F20 X-Max eBike is ready to take on the toughest challenges. Additionally, boasting a motor torque of 65 Nm, you can expect outstanding responsiveness and control. This high-torque, low-RPM motor not only propels you with power but also guarantees a remarkably quiet and serene riding experience.
48V 30AH Battery
The high-capacity 1440Wh battery, with 21% higher density and 21700 Samsung cells, allows you to travel up to 140 kilometers on a single charge. For those who prefer pedal-assist mode (PAS), Fafrees F20 X-Max can go up to 180-200 kilometers. It also features removable convenience and a rapid 3A fast charge capability.
Triple Suspension System
The Triple Suspension System is the linchpin of your riding comfort and control. Rear and front suspensions work together to reduce shocks and vibrations while maintaining stability and balance. The integrated Seatpost Suspension provides additional padding and stress absorption, reducing jarring and lower body strain.
Dual Hydraulic Brakes
The hydraulic brake system with 160mm long lasting pads and ball ramp actuation system gives a silky smooth feel at the lever and incredible gripping power. It significantly reduces the braking distance to just one meter and our reaction time to one second.
Triple Folding Design
With its triple folding design, Fafrees F20 X-Max is both compact and easily portable. This design encompasses the folding of the main frame, handlebars, and pedals, enhancing adaptability and making it a versatile companion for all your journeys.
20*4.0 Inch Fat Tires
4.0 inch fat tire with stronger friction that can adapt to a variety of riding environments like snow road, sand road, mud road, gravel road and also flat terrain.
Shimano 7 Speed Gear Shift System
The Shimano 7-gear shift system facilitates responding to uphill riding scenarios, downward flat plane, or stop-and-go outdoor riding more easily. When used effectively under various riding circumstances, it can help improve the battery's range by up to 15%.
LCD Display 
The high-definition LCD display offers a variety of features with easy control, and presets 3 speed levels. The large-screen shows various data such as speed, battery, mileage, and gear. With the built-in USB port, you can conveniently charge your phone while on the go. It has a cruise control function to help you ride whenever you need it.
Lights with Turn Signals
The front and rear lights not only illuminate your path during low-light conditions but also enhance your visibility to other road users. The integration of turn signals, making your intentions clear to fellow riders and drivers, ensures a safer journey for all.
Front and Rear Racks
To make your daily errands or weekend getaways even more convenient, Fafrees F20 X-Max is thoughtfully designed with front and rear racks. These racks provide ample space to carry your essentials, be it groceries, a picnic basket, or camping gear.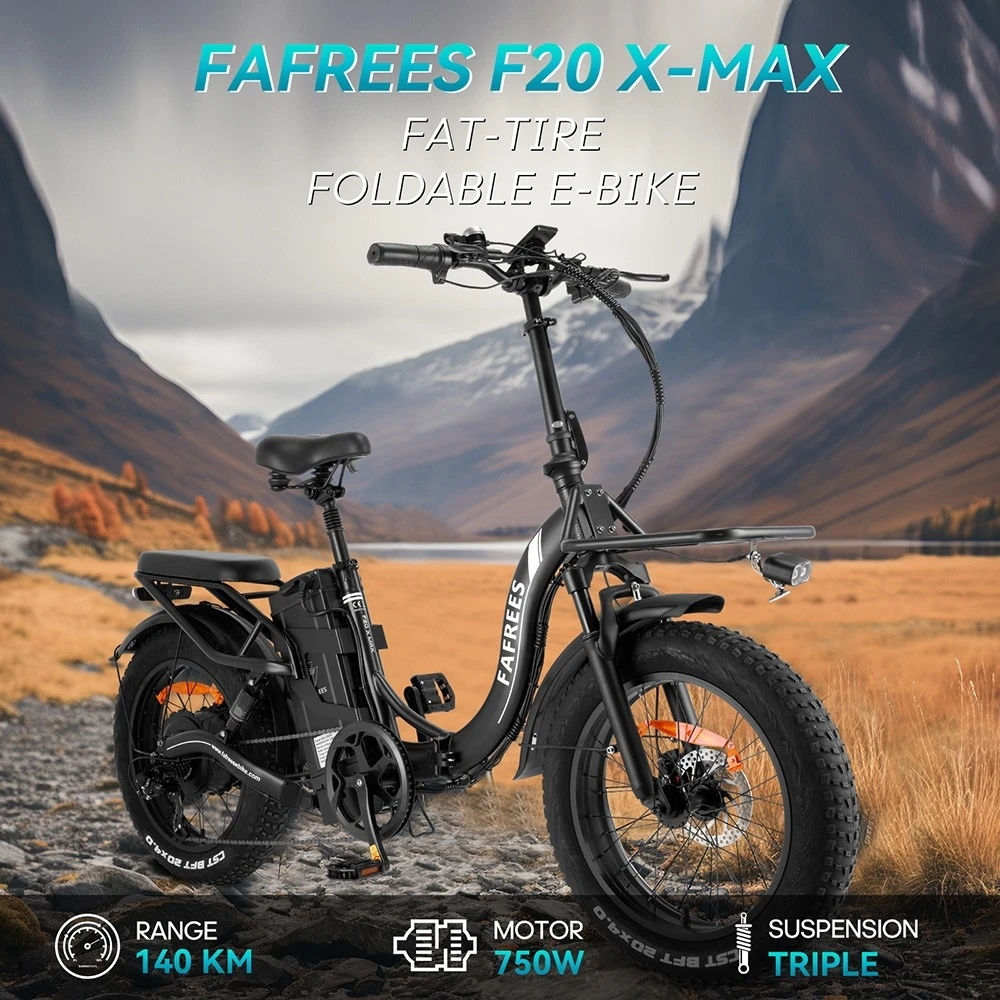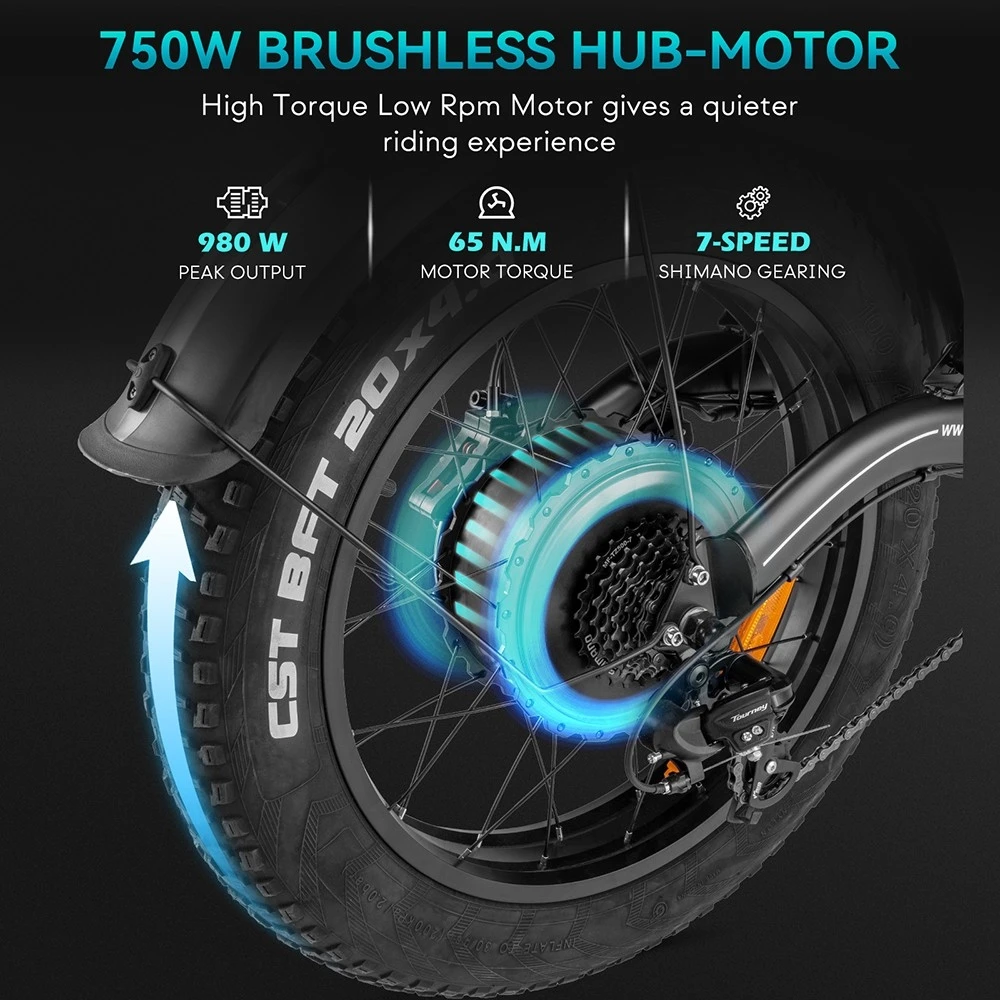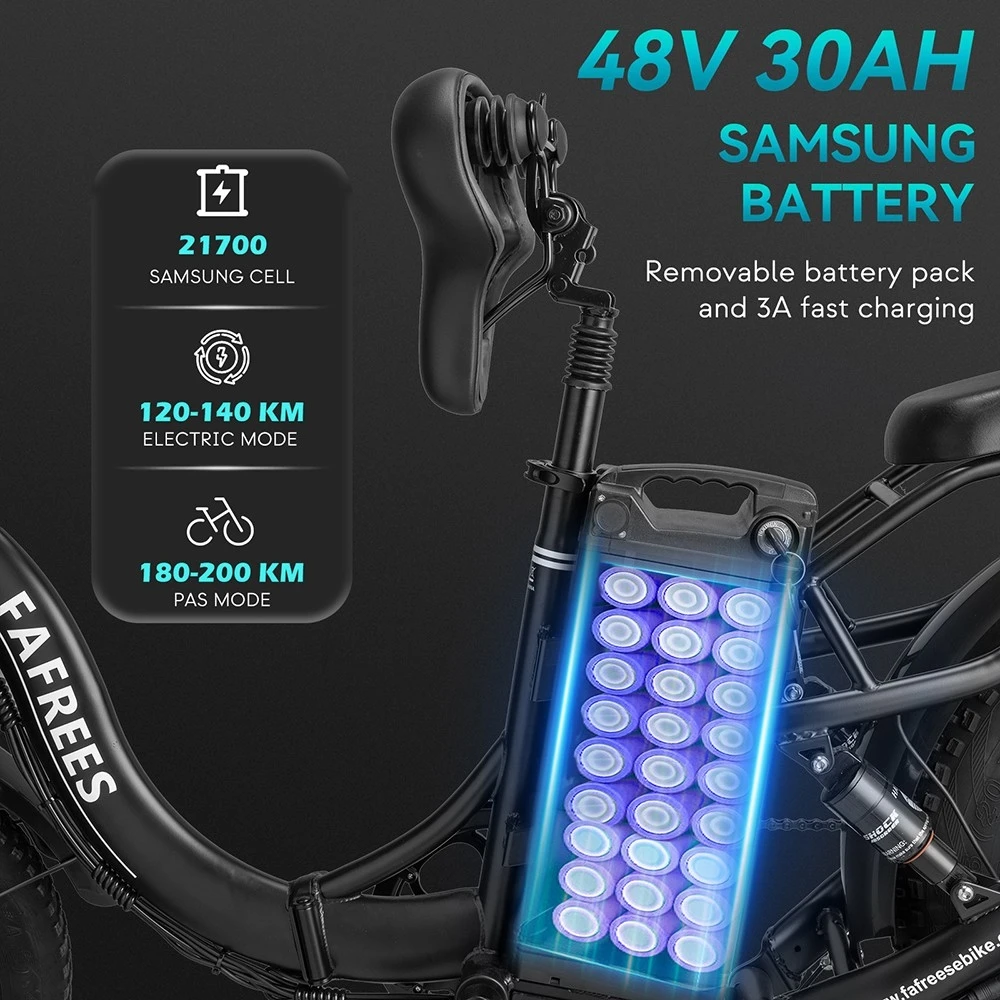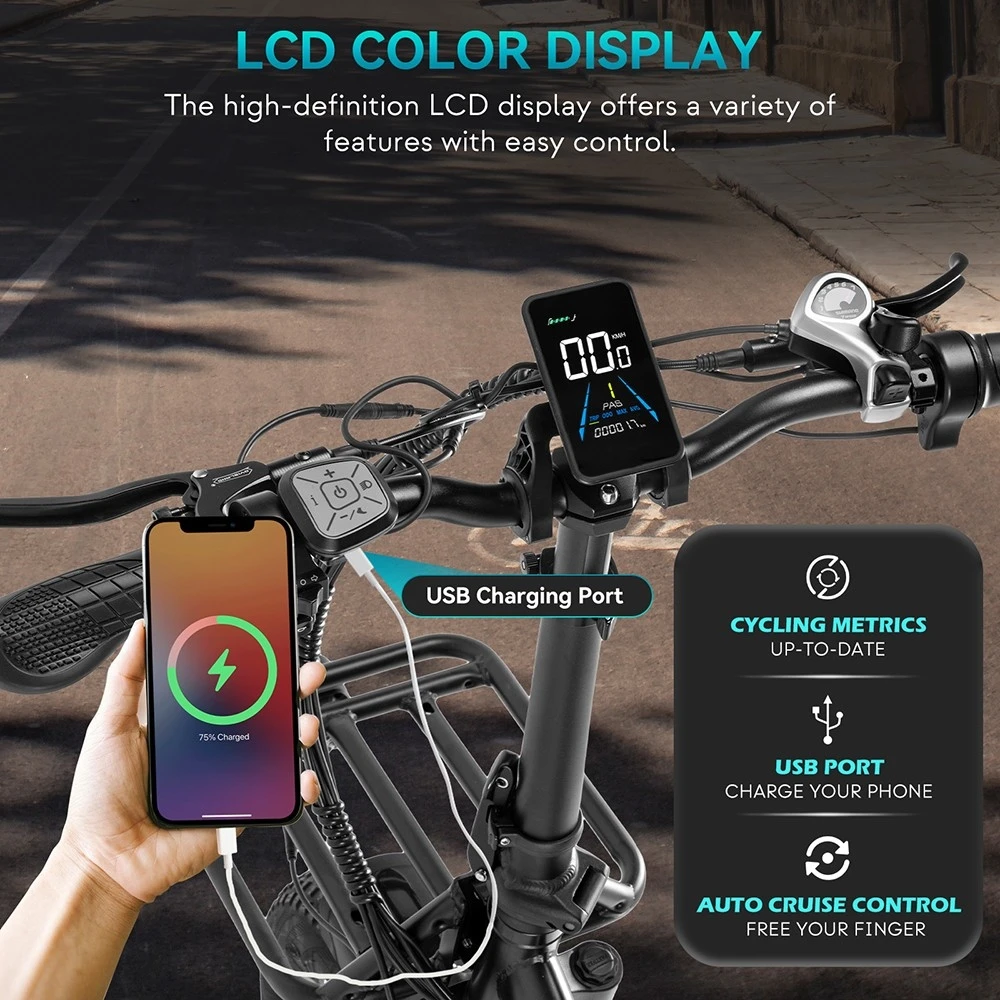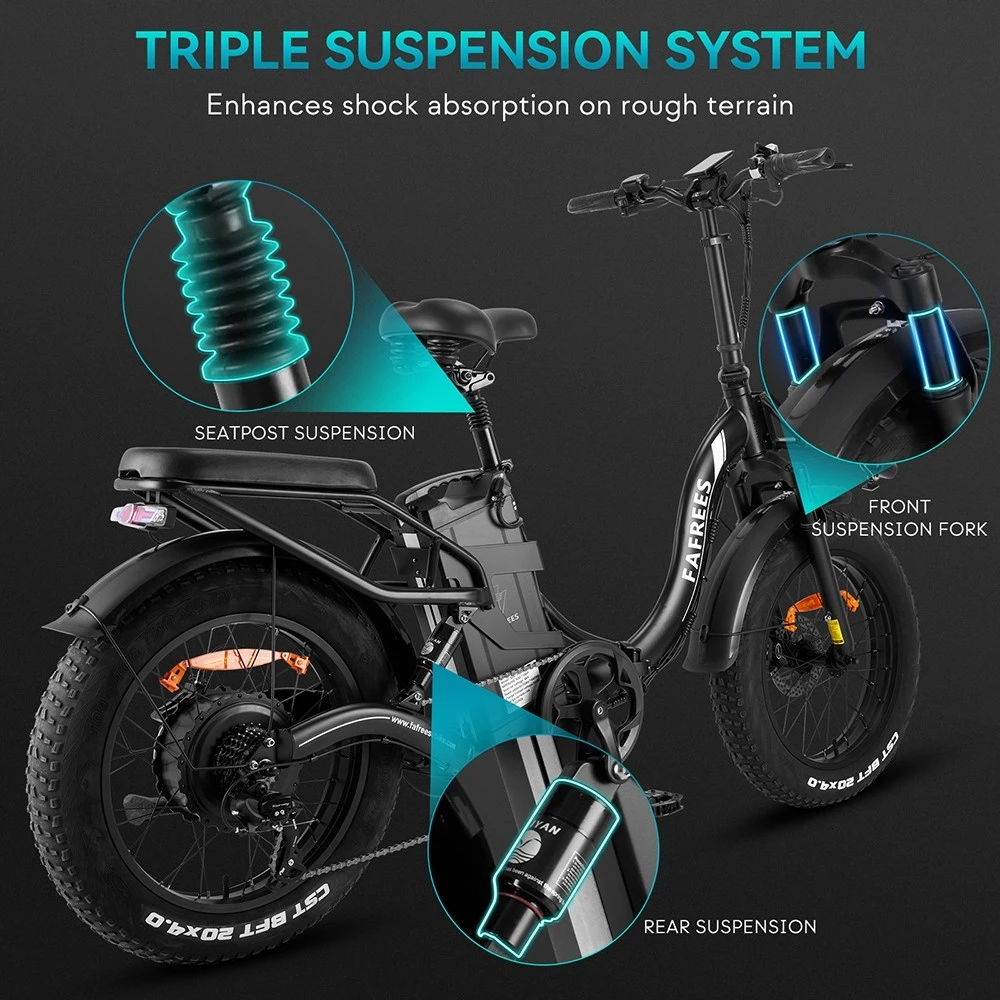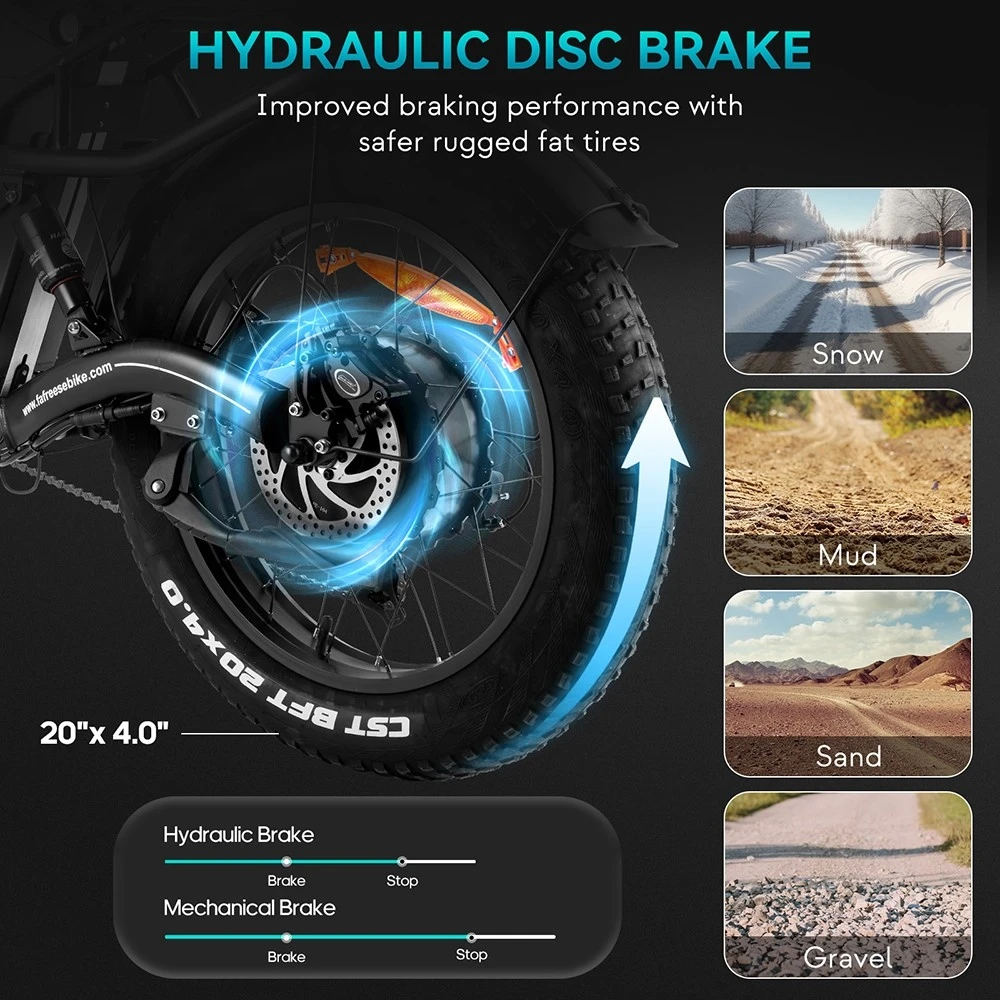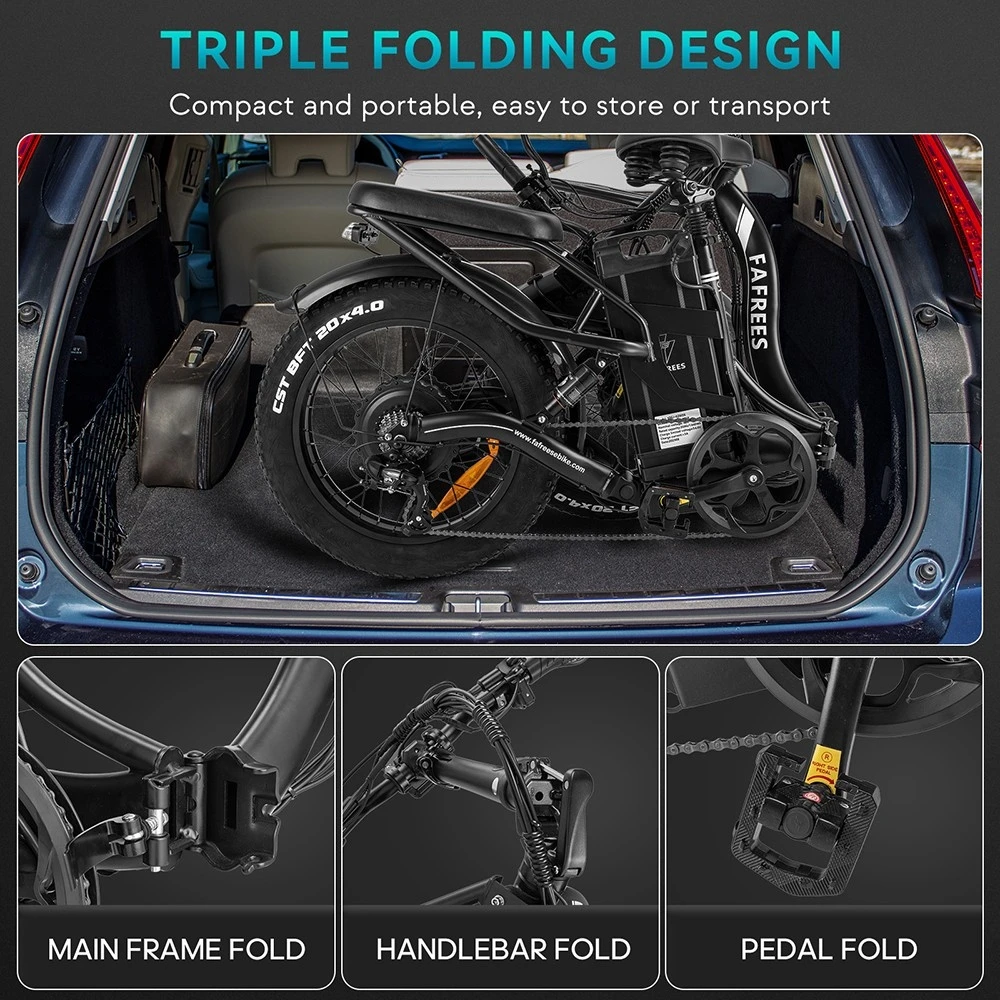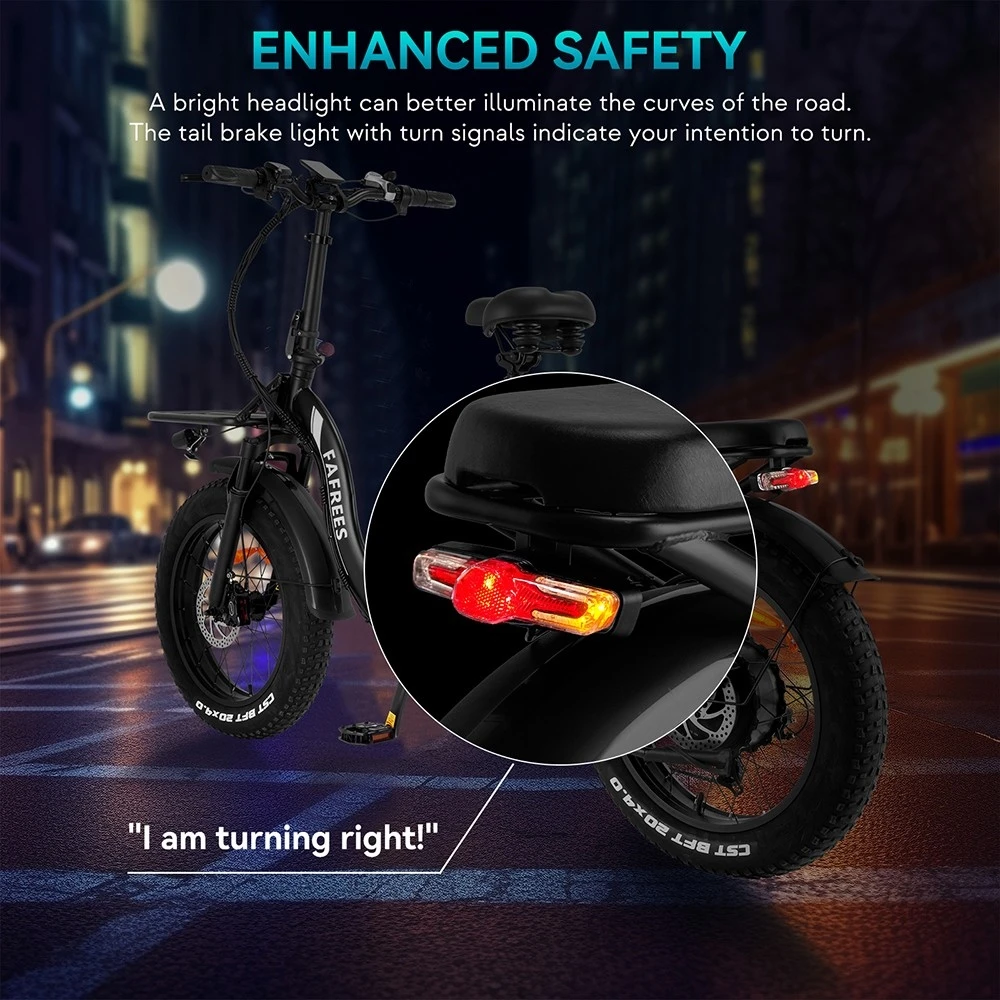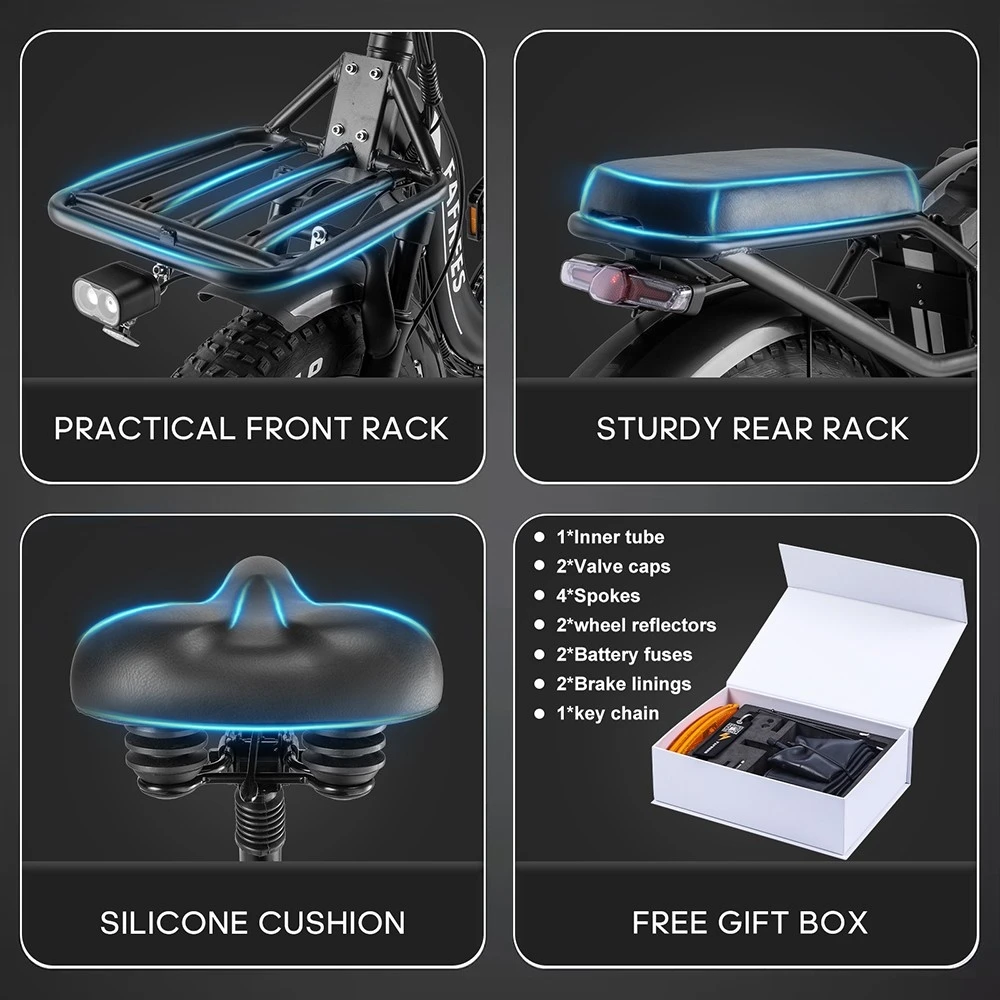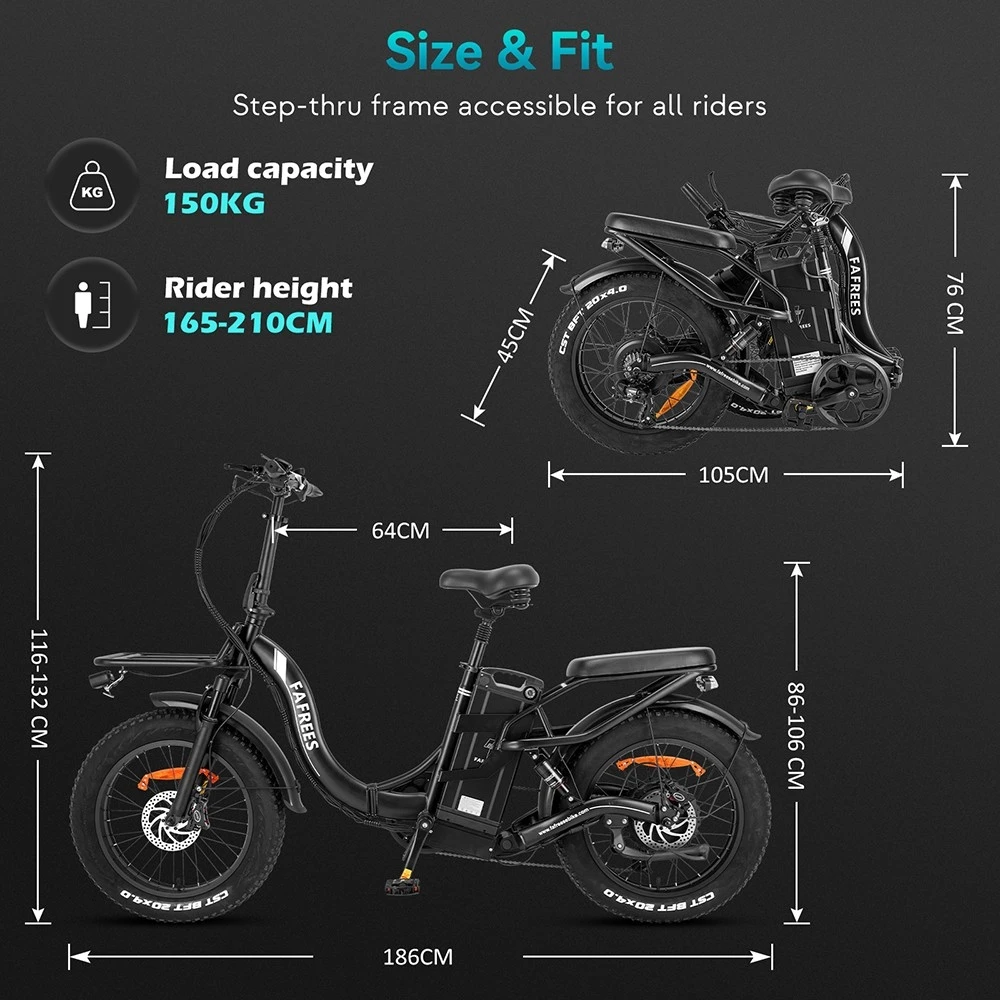 General
Brand: Fafrees
Type: Electric Bike
Model: F20 X-Max
Color: White
Specification
Frame material: High-tensile Steel
Tire Type: Air tire
Load capacity: 150kg
Adjustable height of handlebar: 116-132cm
Adjustable height of seat: 86-106cm
Tire size: 20*4.0 inch
Pedal-ground distance: 10cm
Recommend rider heights: 165-210cm
Default maximum speed: 25km/H
Adjustable maximum speed: 45km/h
Max range for assisted mode: 180-200km
Max range for pure power: 120-140km
Max climbing gradability: 25°
Battery type: Lithium-ion Samsung cell 21700
Rated voltage: 48V
Input voltage: 54.6V
Battery capacity: 30Ah/1440Wh
Undervoltage protection value: 39.6V
Overcurrent protection value: 30A
Motor rated power: 750W
Motor peak output power: 980W
Motor location: Rear drive
Maximum torque: 65 N.m
Charger Input voltage: 110-240V
Charger output voltage: 54.6V
Charger rated current: 3A
Charging time: 9h
Fork type: Shock fork
Fork travel distance: 50mm
Type of rear shock: Rear shock absorbers & shock seat tube
Rear shock travel distance: 15mm
Display type: LCD Display
6km/h walk assist mode: Yes
Cruise control: Yes
PAS level: 0-3
Transmission: Shimano 7s
Brake type: Hydraulic Disc Brakes
Folding parts: Folding handlebars, frame, pedals
Headlight: LED headlight with horn
Taillight: Tail light with brake light and turn signal
Riding mode: Human/assisted/pure power
Waterproof grade: IPX4
Weight & Size
Product Weight: 49kg
Package Weight: 55kg
Unfolded size(L x W x H): 186 x 126 x 63cm
Folded size(L x W x H): 105 x 45x 76cm
Package Size(L x W x H): 106 x 47x 78cm
Package Contents
1 x F20 X-Max e-bike
1 x Charger
1 x Tool kit
1 x Gift box (Including 1 x Inner tube, 2 x Valve caps, 4 x Spokes, 2 x wheel reflectors, 2 x Battery fuses, 2 x Brake linings, 1 x key chain)
1 x User Manual