Powerful Motor & Large Battery
Eleglide M2 comes with a powerful brushless motor that can deliver 55Nm torque and reach a maximum instantaneous power of 570W. Driven by a strong motor, the M2 bike can speed up to 25km/h. With a replaceable 15Ah lithium-ion battery, it can run up to 125km (77.6mi) in assist mode, which is perfect for your long ride.
27.5″x2.35″ Wide Tires
With 27.5in wheels, the M2 bike can negotiate trail obstacles with ease and stability. The 2.35-inch pneumatic rubber tires provide more traction for a smooth and comfortable ride, even on rough terrain. Moreover, the knobby tire surface drastically reduces the impact caused by road bumps, making your ride even more enjoyable.
24 Speed Shimano Gear
The M2 electric bicycle is equipped with professional Shimano derailleurs. It boasts 3 gears in the front and 8 gears at the back, allowing for a swift and effortless ride. With the help of the derailleurs, you will breeze through the roads with ease.
Hydraulic Suspension & Hydraulic Disc Brakes
The hydraulic suspension is more responsive than other suspension systems, providing you with a smoother, firmer ride. And with the lockout design, you can lock the suspension for a fast ride on flat roads and unlock it for a comfortable cruise on bumpy paths. The hydraulic disc brakes offer better control and increased braking effort. They dissipate heat more evenly and tend to last longer than traditional mechanical brakes.
5 Assist Levels & 6 KM/H Walk Mode
In assist mode, you can switch between 5 pedal assist levels, including 12, 16, 20, 23 and 25 km/h. With the 6 km/h walk mode, you can effortlessly walk the bike wherever you need to go.
Smart LCD & App Control
Eleglide M2 has an intelligent LCD display that keeps you informed with all the important details, like the real-time speed, trip distance and remaining battery power. You can switch assist levels, set screen timeout, activate walk mode and more right from the display. Furthermore, you can control your bike via on your phone via the Eleglide app. The smart app allows you to activate more functions, such as locking the bike, setting a password and adjusting the screen timeout, making your ride smarter and easier.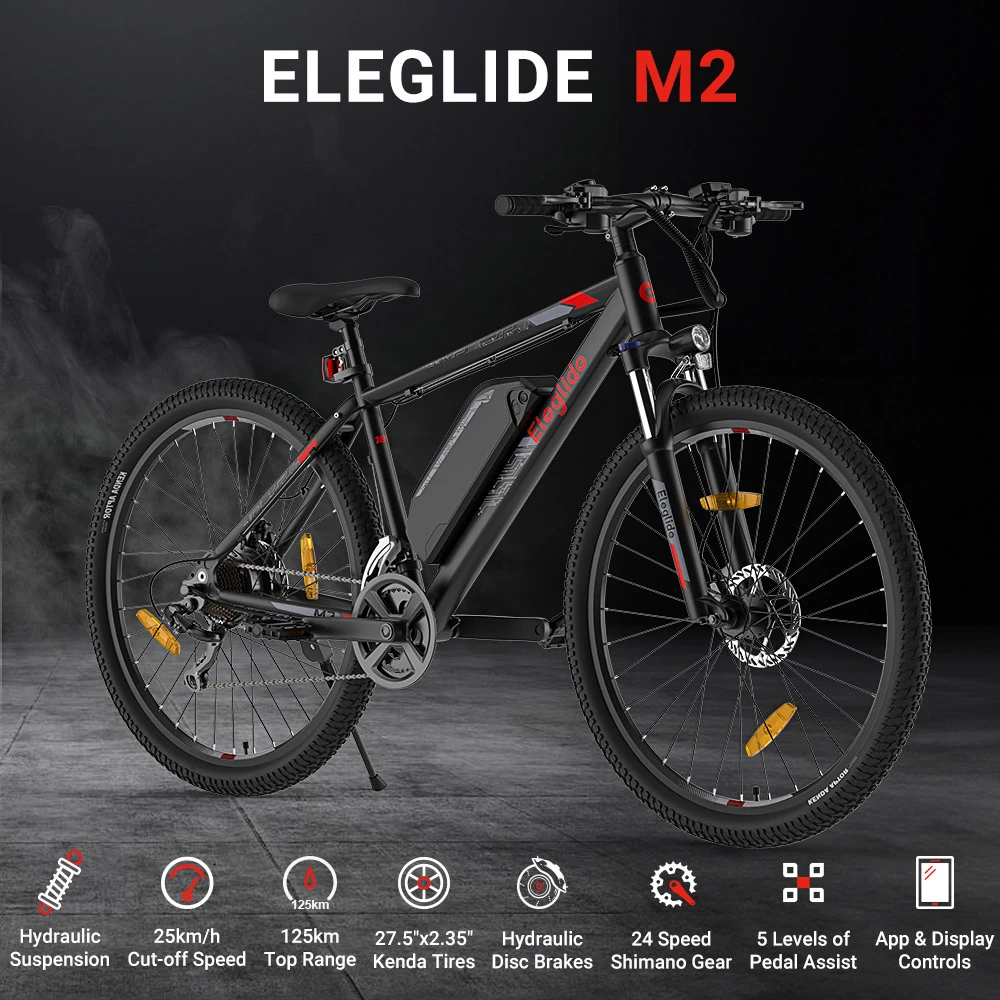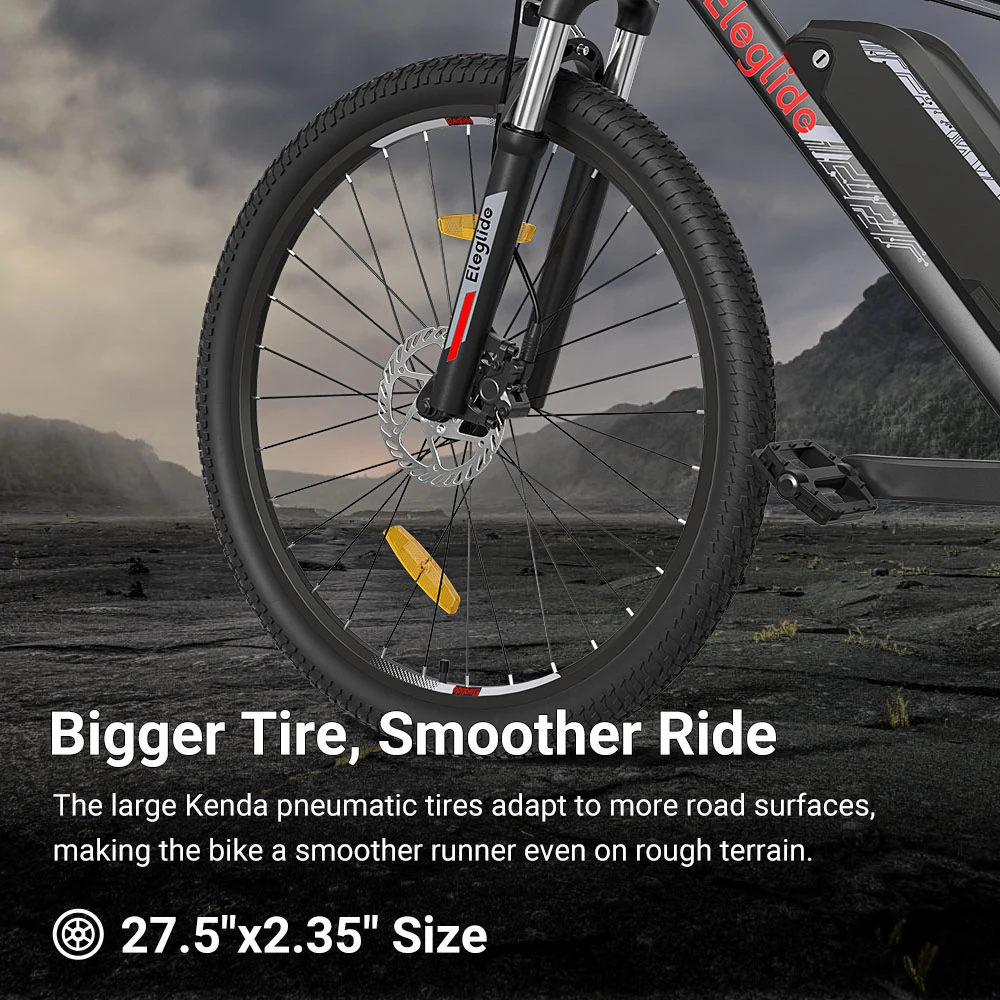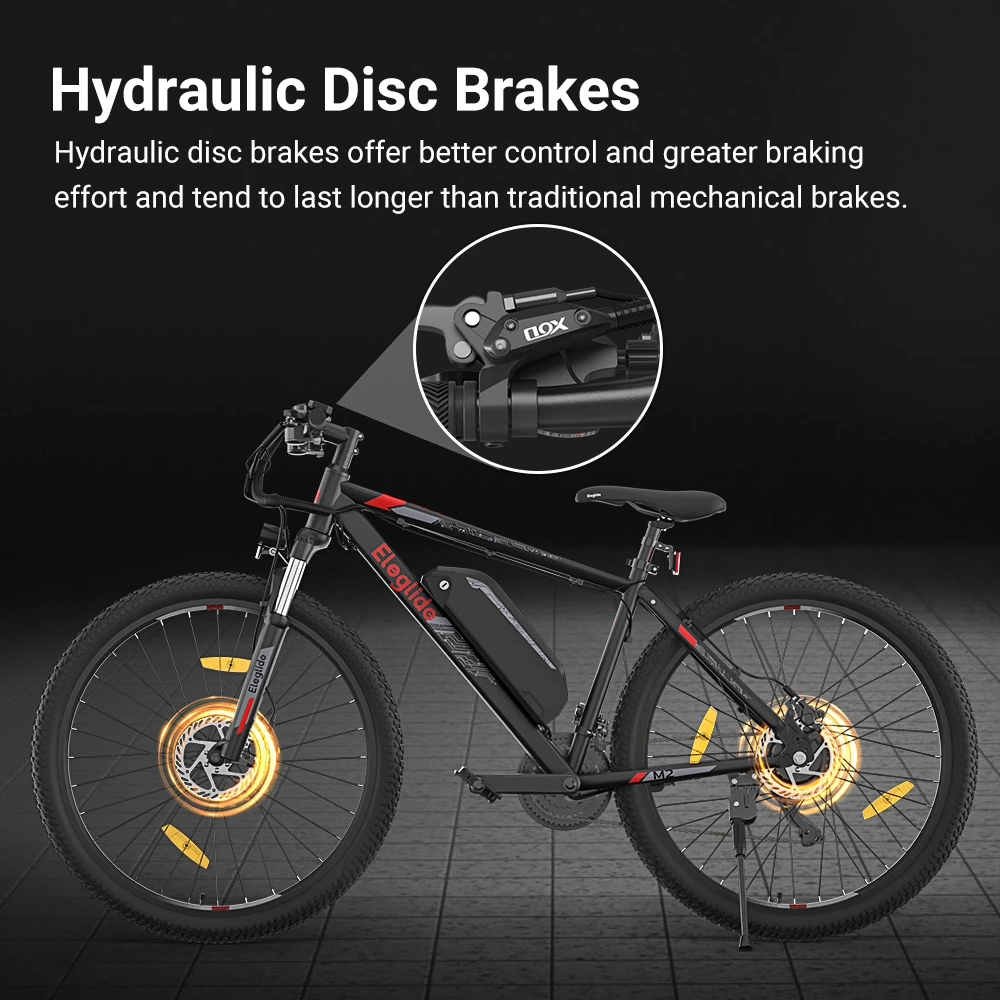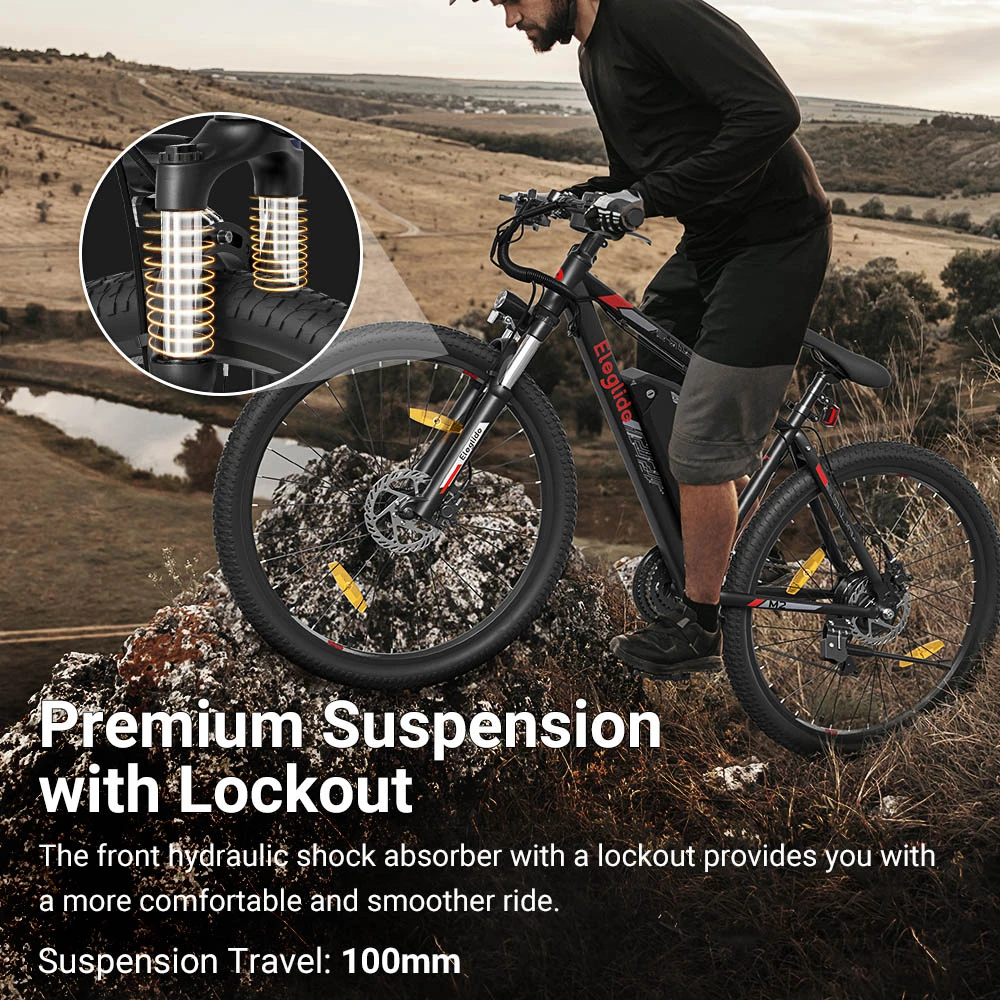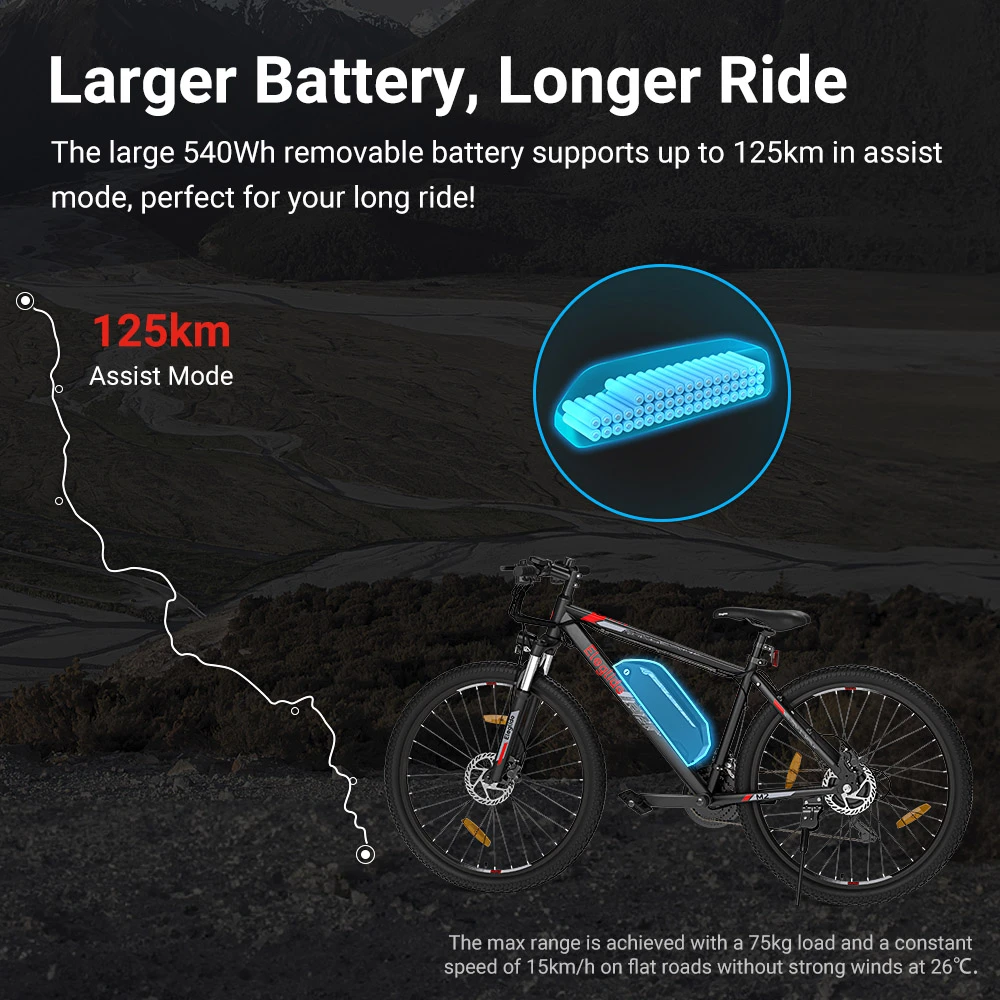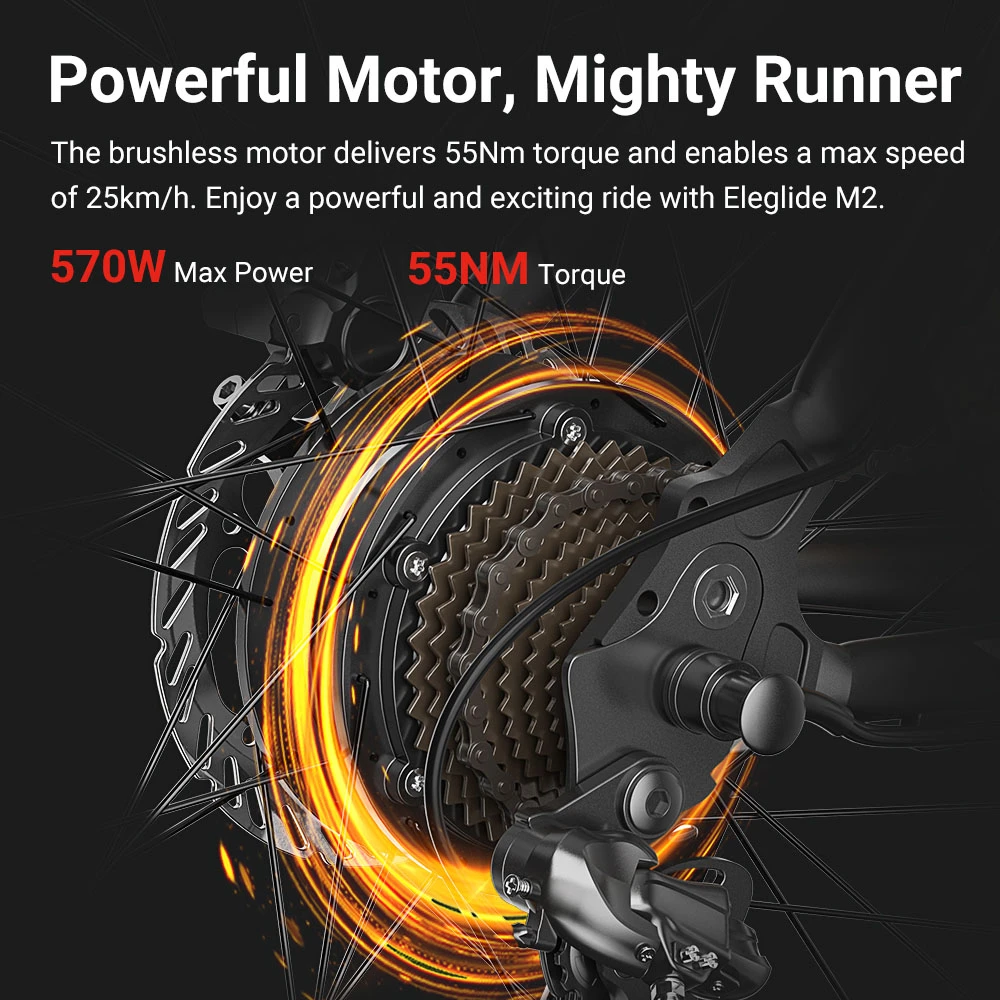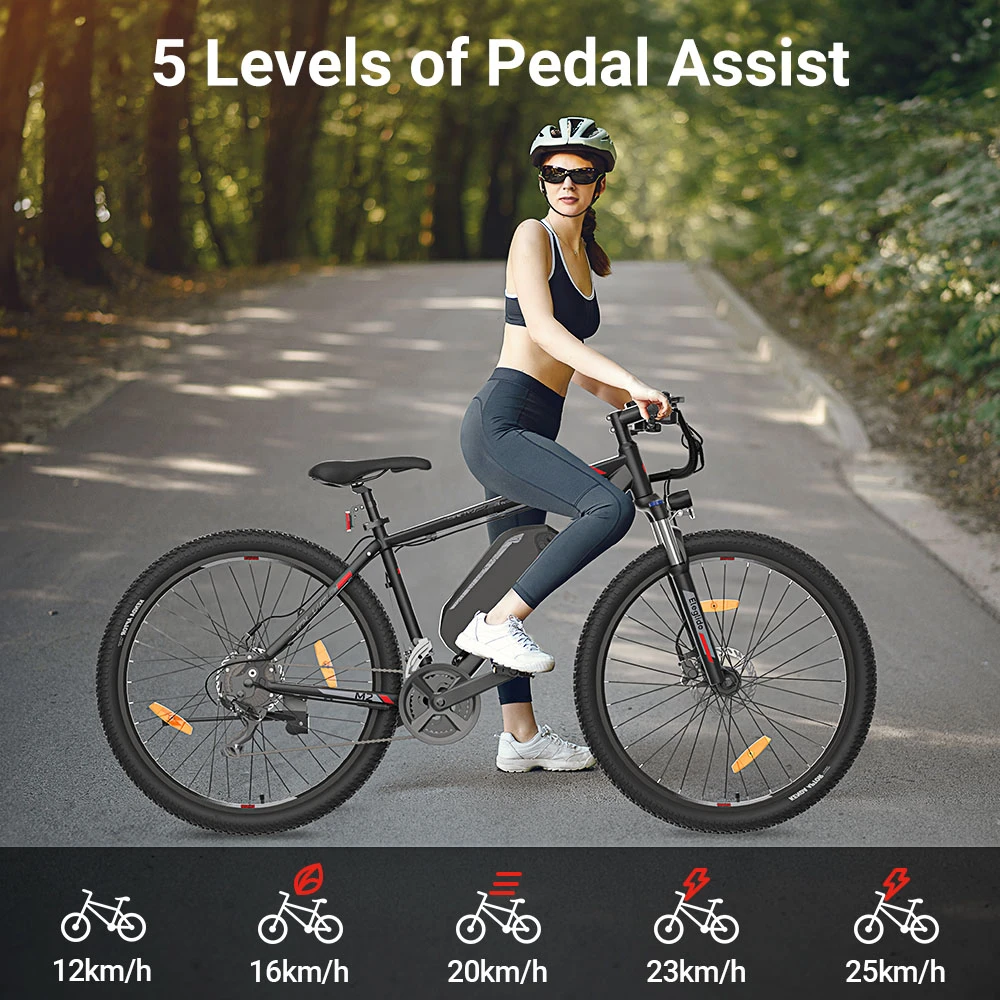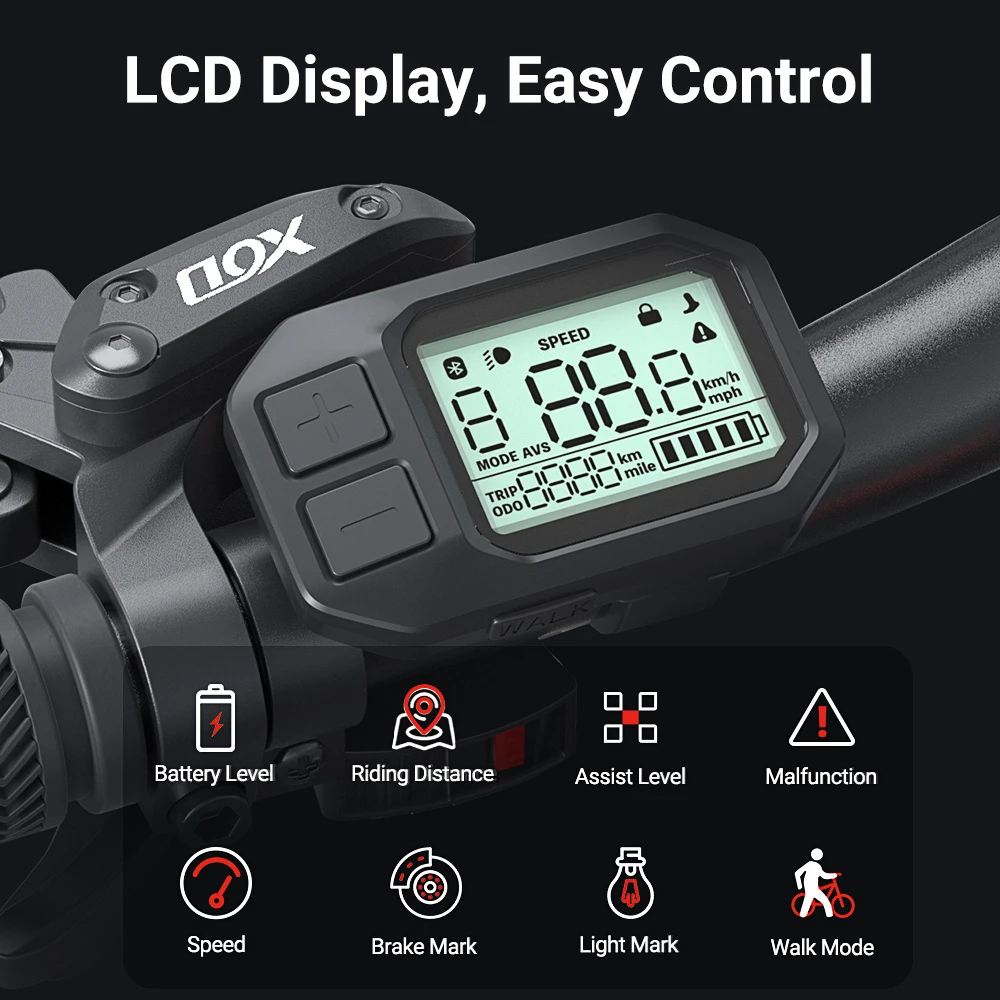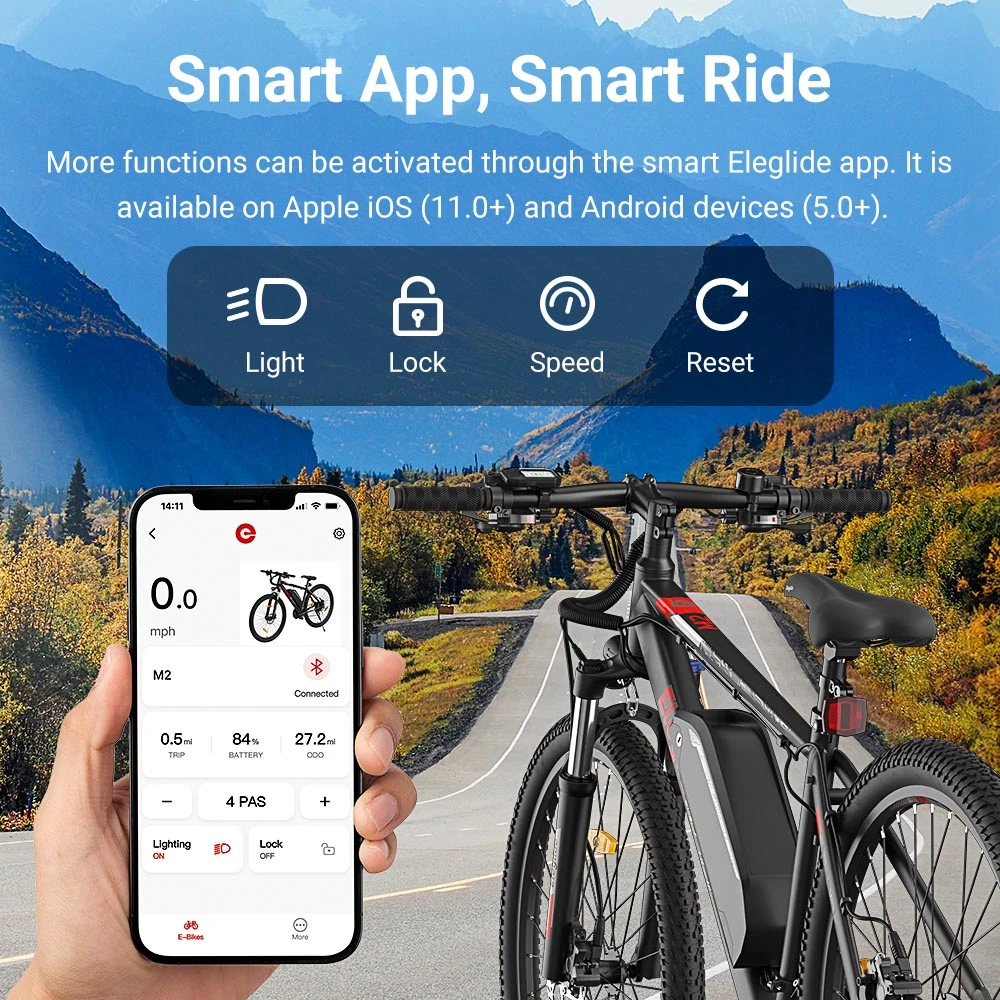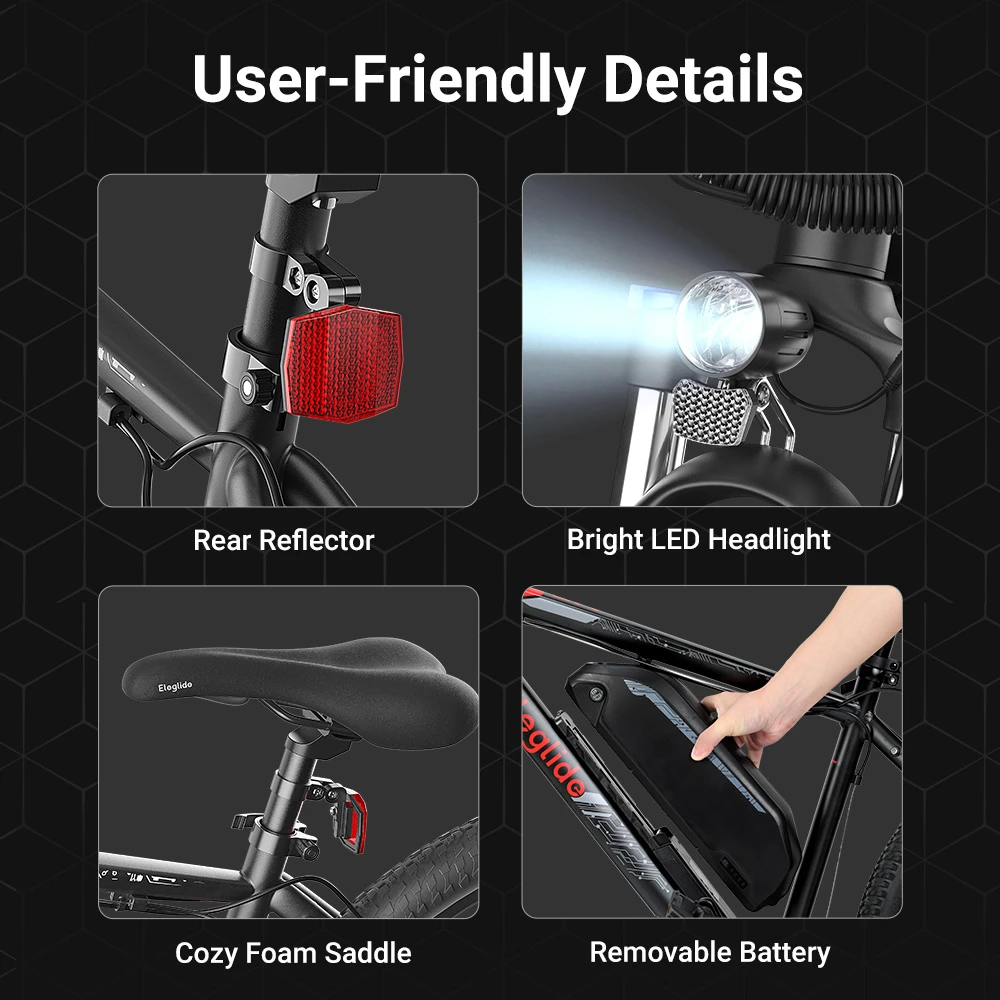 General
Brand: Eleglide
Model: M2
Color: Black
Basic Specification
Net Weight: 22kg
Unfolded Size: 1800x680x1060mm
Size of Frame: 27.5″x18″
Length of Handlebar: 680mm(26.8″, without grip covers), 700mm(27.6″, with grip covers)
Height of Saddle (from the ground): 34.3″-41.7″
Recommended Rider Height: 160-195cm (around 5′ 3″-6′ 4.8″)
Max Load of Bike: 120 kg
Cut-off Speed: 25km/h (Can be adjusted to 32km/h)
Max Range: 125km (Assist Mode)
Pedal Assist Levels: 12/16/20/23/25 km/h
Walk Mode: 6km/h
Waterproof Level: IPX4
Material: Aluminium Alloy (AL6061)
Braking System: Hydraulic Disc Brakes & Power-off Design
Motor
Rated Voltage: 36V
Max Instantaneous Power: 570W
Max RPM: 250
Max Output Torque: 55N.M
Derailleur
Brand: Shimano
Number of Gears: 3 (Front), 8 (Rear)
Battery
Capacity: 15Ah
Voltage: 36V
Charging Time: 10h
Power Capacity: 540Wh
Protection System: Yes
Charger
Input: 90~264V, ≤2.2A
Output: 42V, 2A
Tires
Brand: Kenda
Size: 27.5″x2.35″
Type: Pneumatic Rubber Tires
Tire Pressure: 40-65PSI
Best Tire Pressure: 50PSI (Front), 55PSI (Rear)
Display
Size: 1.75″
Type: LCD
Information: Speed, Battery Level, Trip Distance/Odometer, Assist Level, Push Mode, Light Mark, Error Code, Brake/Malfunction Mark
Functions: Power on/off, turning light on/off, shifting assist levels, activating walk mode, removing ODO data, setting screen timeout, etc.
App
Name: Eleglide
System Support: iOS (11.0+), Android (5.0+)
Functions: Turning light on/off, shifting assist levels, locking/unlocking the bike, setting password, adjusting screen brightness, etc.
Package
Size: 1480x240x770mm
Gross Weight: 27.5kg
Package List
1 x E-Bike                  1 x User Manual
1 x Charger               2 x Pedal
1 x Headlight            1 x Saddle
1 x LCD Display        2 x Key
1 x Tool Kit