The Best Value Electric Bike For Explorers!
Powerful Adult Electric Bike: AKEZ E-Bike is equipped with strong 500W brushless motor
Long Range AKEZ Electric Bike: 32+ miles (50KM) on fully electric, 35- 45 miles on pedal assist mode
Go Fast AKEZ E Bike : Top speed 25MPH (40KM/H), overheat protection when going uphill
Cool AKEZ Electric Bike: 48V/13Ah removable Lithium-Ion battery
Mountain AKEZ Ebike: MICRONEW 27-Speed Gear System
DESCRIPTION
With the 27.5″ AKEZ Ebike, there's no terrain you can't go on. Go camping, ride those slopes, hit the dusty trails, and enjoy nature at its best.
Explore Every Corner Of Your City With 27.5″ AKEZ Mountain Ebike
27.5″ AKEZ Electric Mountain Bike has five levels of pedal assistance. Obviously, the Pedal Assist System (PAS) is useful for when you want to pedal with a small amount of electronic help. Certainly, the less the motor is engaged, the greater range and battery life (and exercise) you will have during the ride. Besides, three riding modes can be switched freely ( i.e. : pure electric, pedal assist and ordinary bicycle mode). You can use the electric mode to pursue faster speeds, commuting or exercising. Also, you can choose to turn off the power to enjoy the fun of riding and meet your different travel needs.
MICRONEW 27 Speed Transmission
Micronew 27 gear (Front 3-Speed, Rear 9-Speed) combined with the 5 pedal assist modes make 27.5″ AKEZ e cruiser bike a joy ride in any conditions (e.g.: uphill, downhill, into the wind and with the wind, etc.). Without a doubt, you can personalize your ebike for anything, from grocery runs to camping trips — and everything in between.
27.5″ AKEZ Ebike Giving You The Ultimate Experience
Being the top of the line, the 27.5″ AKEZ E-Bike presents power, functionality, and beauty all in one. Accordingly, it will take you faster and further across any terrain in comfort. In a word, this ebike is a real beast!
Specialized Removable Battery
As the same as 29″ AKEZ E Bike, on a 13Ah fully-charge capacity, the high-torque 48V battery can achieve rapid starting acceleration and a long range of 32+ miles (50+ kilometers) in all-electric mode, enabling you to travel long distances with ease. Another key point, quick removable modular battery lets you charge the battery pack on or off the frame. The battery of 27.5″ AKEZ Electric Bike has also a lock to keep your battery safe. Meanwhile, the exclusive Smart Battery System can ensure a long life expectancy and distinguished performance.
27.5″ AKEZ Ebike With 500W High-Speed Motor
Firstly, the powerful and reliable 500W motor provides an extra boost to your ride. The top speed of this 27.5″ AKEZ Mountain Ebike can reach 25MPH (40KM/H), which assists to reach your destination promptly regardless of terrains or weather conditions. Secondly, fast acceleration and torque to tackle city slopes with ease. In a word, AKEZ 27.5″ ebike can bring you easy commuting and outdoor travel, just as 26″ AKEZ e-bike. Not only can it let you ride faster and farther, but also help you adventure more surprises and open up another new world.
Multifunctional Handlebar
As can be seen, there are many important componants on the handlebar, such as shimano cassette shifter, half twist throttle, LCD display and brake lever. Undoubtedly, with this comfortable handlebar, you can control the 27.5″ AKEZ Electric Mountain Bike easily. What's more, this eMTB extra power comes with controlled acceleration for a smoother ride, so you can travel farther and reach your destination quicker than ever before.
More Details About The 27.5″ AKEZ Ebike
No terrain is too tough for the 27.5″ AKEZ Ebike, you can tackle hills and ride on terrains you've only dreamed of!
Bright LCD display with backlight shows speed, odometer, battery level and riding time as well as gear. Whether it is cloudy or shine, night or day. Meanwhile, there were 5 assistance levels controlled via the " UP/DOWN " buttons.
A bright LED front lamp helps you to see your way clearly even in bad weather, which can guarantee your safety undoubtedly.
With ergonomic design and comfortable seat, you won't feel any discomfort even if you go on long long rides! Moreover, the adjustable seats can adapt to people of different heights and weights.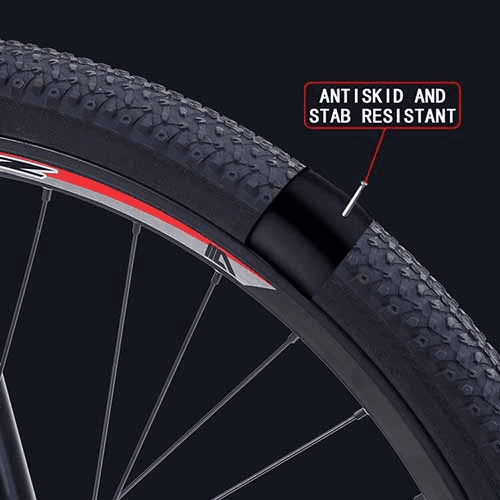 27.5  x 2.1 inch all-terrain tires have thickened tread pattern design, which is not only wear-resistant but also non-slip. Therefore, tt can help you ride on uneven roads or other complex terrain, minimize the risk of tire blowouts, and improve riding safety.
Dual Mechanical Disc Brakes
Firstly, the mechanical disc brakes performed well for quick, controlled stops. Furthermore, the brake lever has power-off function. When braking, the motor is powered off instantly to achieve fast braking and protect your riding safety.
Dual-sided aluminum crankset guards to provide further protections to the chain ring and help the chain stay to travel over rough terrain.
For one thing this bike's front fork suspension allows your wheel to move up and down. For another it absorbs the bumps and dips on the road. In brief, it will keep your balance and let the tires in better contact with the ground for maximum control.
Perfect as your first mountain bike, the 6061 Aluminum frame we used on 27.5″ AKEZ e cruiser bike is lightweight, capable and durable. Most importantly, the overall structure is very solid.